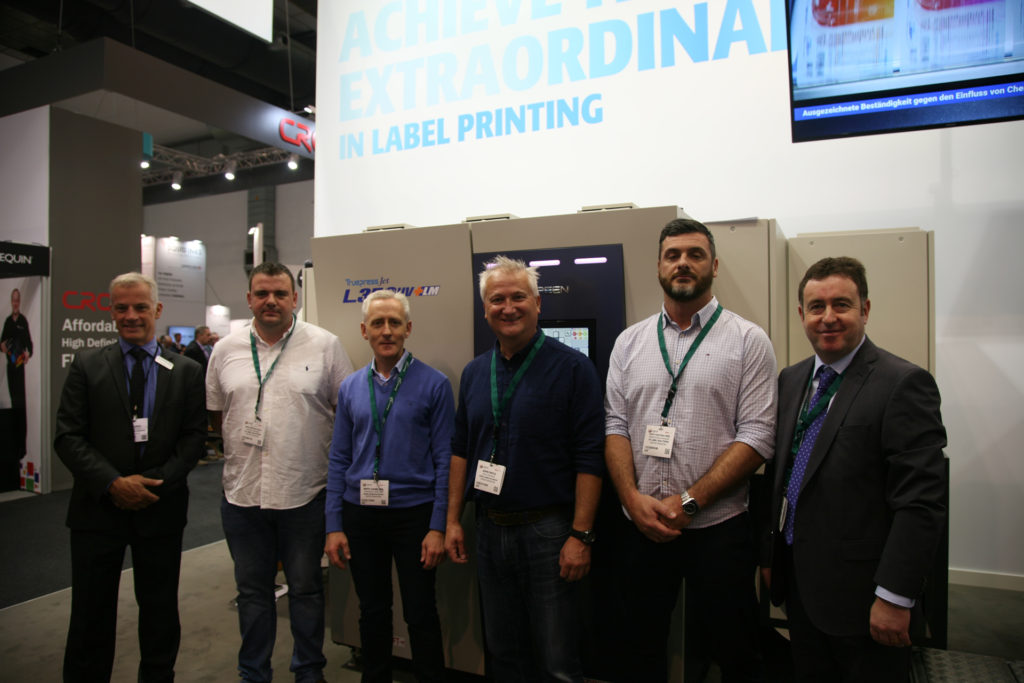 Third generation family business James Hamilton Group has invested in the world's first Screen Truepress Jet L350UV+ press for its specialist JH Label Solutions division, based in Lurgan, Northern Ireland. The recently released UV inkjet press will be used to produce food, beverage and chemical product packaging labels.
Following a near nine-month process of due diligence travelling throughout Europe to visit different manufacturers, James Hamilton Group chose the Screen Truepress Jet L350UV+ press for its combination of efficiency and quality. Keith Hamilton, James Hamilton Group Managing Director, comments, "The business needed more capacity and we knew right at the start we were looking for a digital solution to complement our existing flexo press lines in order to respond to the ever-increasing requirements for shorter run lengths and increased SKUs. The Screen Truepress Jet L350UV+ was a clear choice for us because it ticked so many boxes; Screen's UV inkjet technology delivers tried and tested quality, it has an excellent reputation for reliability and with the 60mpm speed, it's becoming a real rival to flexo production."
"Reliability is a major factor," adds David Hedley, General Manager at JH Label Solutions, "It's very difficult to price for downtime especially if that is a regular occurrence with a machine. This will be our first Screen press, but the company's reputation and reliability which we have experienced for many years with using Screen CTP machines, was a factor in our decision. Our relationship and several visits to Screen in Holland persuaded us we're going to have an extremely productive press when you combine the running speed with the uptime," comments John Doyle, UK Sales Manager at JH Label Solutions.
James Hamilton Group has a history of adapting to meet market demand. Established in the 1920s by James Hamilton, Keith Hamilton's Great Grandfather, the business started as a paper and twine merchants when James saw an opportunity to serve the thriving local linen industry in Lurgan and Portadown with packaging materials. In the 1960s and under the leadership and vision of Alec Hamilton, Keith's father, the company expanded, adding the JH Print & Packaging division, in 1973 it moved into office stationery, in 1982 disposable hygiene products, in 1991 JH Bearings and Transmissions was formed and in 2008 the company established another new division, JH Label Solutions. Each expansion was made in response to local market demand and the company's entrance into labels has once more seen business booming.
"The labels business was started because we were being requested to supply a label portfolio by a lot of our packaging customers," explains Hamilton. "It was a good fit with our existing packaging business, so we started to outsource labels. The business developed really quickly and our own in-house production of labels became a serious consideration as we knew it would benefit our business. We then bought our first flexo press and within six months had bought and installed a further two new presses to keep up with demand. Our objective was never to be the biggest, but we strive to be the best and we'll often over deliver on service for our customers.
"Honestly, we just didn't want to say 'no' to loyal customers who had requests for labels," laughs Hamilton. The company culture of customer focused service combined with a quality product, comes, says Hamilton, from his father, Alec, who's philosophy would always be to do things right the first time and every time.
As such, it is crucial to James Hamilton Group to deliver the repeatable print quality and precise accuracy required for chemical, food and beverage product labelling, which often include ultra-fine detail. The Truepress Jet L350UV+ features proprietary screening technology with one of the smallest droplet technologies commercially available. The smoothest of colour gradations, image and text detail is achieved by the system's high-resolution screening and ink spread compensation software functionality. Coupled with one of the widest colour gamut proprietary inksets and Vivid Color Mode printing, it produces the highest repeatable print quality. Meanwhile a thoroughly stable transport mechanism tightly controls paper feeding to prevent meandering and maintain optimal transfer conditions, ensuring consistently high registration accuracy.
"Our customers expect premium quality print," says Hedley, "With the new Screen press we'll be able to offer something different in the extended orange colour gamut, which in turn will meet their stringent quality requirements, in addition to providing a faster service. I believe our customers will be very happy with our choice."
"As Screen's partner in Ireland for the last fifteen years or so, we are thrilled to be a part of this landmark deal. We look forward to a great partnership with James Hamilton Group and are obviously delighted with the trust they have placed in Screen and Litho Supplies. Following this 'world first' we're confident in securing more business as the high-speed inkjet label market develops," concludes Richard Styles, Sales Director, Litho Supplies.