Truepress Jet L350UV SAI Series UV Inkjet Label Presses
Extraordinary Speed and Quality Meets Unrivaled Flexibility
The Truepress Jet L350UV SAI series has been developed in response to the industry's need for mixed, short-run printing for the high price and luxury segments. This new system enables significantly richer color expression as well as superior scalability, enabling it to meet a wide variety of market needs. "SAI" refers to its extremely Stable operation, highly Accurate color reproduction, and time-tested Integrated technologies.
Truepress Jet L350UV SAI Advantages
Cost of ownership
Stability
Cleaning/stitching control
Structure
Print resolution/minimum droplet size
Speed/Productivity
Accurate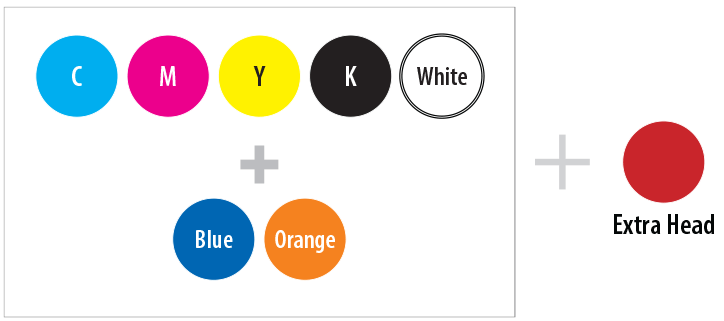 Seven inks—C, M, Y, K, white, orange, and blue—ensure superior color reproduction while support for an extra printhead provides optimum future scalability. The system also features stable color reproduction, allowing for consistent printing time after time. These technologies provide a far wider range of color expression than was previously possible.
Stable
The Truepress Jet L350UV SAI delivers outstanding stability, enabling high-speed printing of up to 80 meters per minute. Built upon the most stable and successful platform of its kind, the Truepress Jet L350UV SAI series offers improved color reproduction as well as superior scalability, meeting and exceeding the demands of an even wider variety of market needs.
Integrate
High scalability ensures flexibility in any work environment. The wide line-up provides printing companies with the optimal model for any current application while also allowing expanded functionality as operations grow.
Comparison of printing times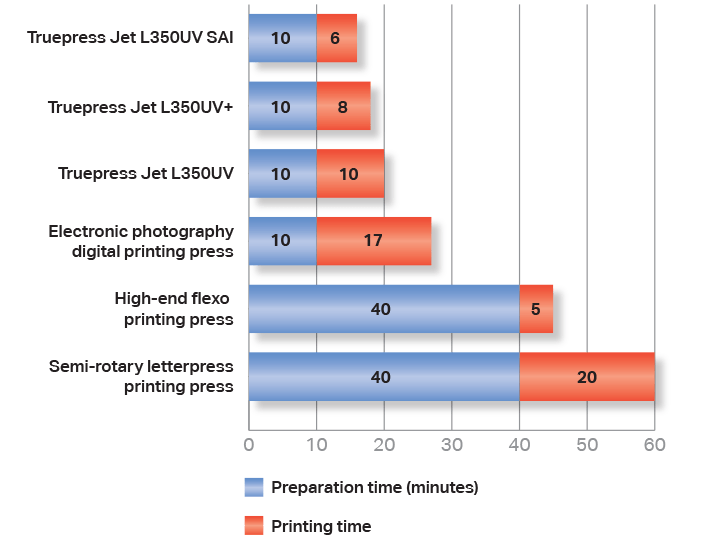 Bottle Wrap
Bottle wraps on films with thicknesses down to 40 micron will show you the strong opacity of our whites.
Brand protection
The standard security features like Seal Vector, variable barcoding or numbering can also be used for brand protection.
Color-Logic metallic effects
For creating special effects onto metallic substrates, Equios can map a metallic separation to a white separation by using the Colour-Logic application. At the same time, it can also invert positive and negative images.
Pharmaceutical
In the pharmaceutical industry combatting counterfeiting of prescription drugs is essential. The range of security features that is included in the L350UV kit can strongly contribute to the safety of medicines within the supply chain.
Pouches and Sachets
Foodsafe pouches and sachets can also be produced in short run, with multiple sorts and sizes!
Labels
Screen delivers the UV inkjet technology that is highly prized by label printing companies looking for top-level productivity, smooth output of gradations, reproduction of wide CMYK colour gamut and single-pass versioning printing.
Download Brochure
Please provide a little information about yourself before downloading the Truepress Jet L350UV SAI Series brochure.