Next-generation monochrome inkjet press optimised for offset coated papers
Truepress Jet520 systems have been adopted by many printing companies worldwide. A high-speed, roll to roll inkjet press optimised for monochrome production is now available in this leading series. The cutting-edge system features innovative technologies that transform printing work.


DIRECT PRINTING ONTO OFFSET COATED PAPERS
The Truepress Jet520HD mono uses Truepress ink SC, a range of water-based inks that can be output directly onto offset coated papers. These inks support a wide variety of production types, ranging from data printing such as overprinting on preprinted direct mail using offset presses, to on-demand printing such as the creation of books and other media using offset type papers. A chill roller (option) may be required depending on printing conditions.

HIGH PRODUCTIVITY AND QUALITY
The Truepress Jet520HD mono delivers both exceptional throughput of up to 150 meters per minute and outstanding quality enabled by its 1,200 dpi high-precision inkjet printheads. As well as sharp reproduction of characters and barcodes, the system enables richer expression of gradations in any image. When transitioning from a cut-sheet system, connecting to postprocess devices and expanding automation can lead to even greater gains in usability and productivity.

BUILT-IN CAMERA SYSTEM
Presses equipped with multiple printheads often face issues related to density variations between the heads. JetInspection, a built-in camera system, automatically checks and adjusts these differences to ensure uniformity. JetInspection also integrates with the proprietary transfer system to boost performance while maintaining stability


ENHANCED USABILITY
All operations along the entire workflow from job registration to final printing can be performed from a tablet device. This greatly simplifies operations such as preregistration of paper data and fine adjustments to settings. Even when an operator is in a different location, it is easy to issue commands and check conditions. This increases the onsite efficiency of staff and also maximise the operating ratios of printing equipment.

SMALL INSTALLATION FOOTPRINT
The Truepress Jet520HD mono features the smallest installation footprint of any press in the Truepress Jet520 series. The layout of the printhead module, transfer system and other internal components has been completely redesigned. The resulting highly compact configuration makes it possible to install the press even in locations with limited space. The proprietary multi-axis structure of the transfer system also enables high-speed roll transport with total precision and reliability.

AND MORE...
Flexible configuration, leading drying technology, PreInstalled EQUIOS server and more…
Download the brochure for more information on these exciting features.
Literature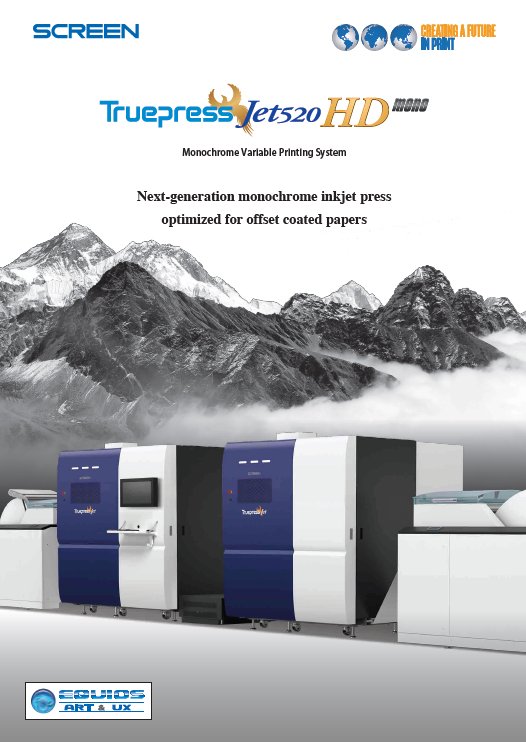 Download Brochure
Please provide a little information about yourself before downloading the Truepress Jet 520HD Mono brochure.
Specifications
| | |
| --- | --- |
| Product name | Truepress Jet 520HD mono |
| Printing system | Inkjet, Piezo single-pass DOD |
| Controller | EQUIOS: PS, PDF, PDF/VT (standard) |
| Inks | Truepress ink SC for Truepress Jet520HD: SC (Bk) |
| Resolution | Max. 1,200 × 1,200 dpi |
| Printing speed | Max. 150 m (492')/min. (with option)*¹ |
| Printing width | 150 to 508 mm (6" to 20") |
| Media width | 165 to 520 mm (6.5" to 20.4") |
| Media thickness | 40 to 250 gsm (up to 157 gsm at a speed of 150 m/min.)*¹ |
| Operating environment | Temperature: 18 to 24°C (64.4 to 75.2°F) (no sudden temperature changes) Humidity: 40 to 60% (no condensation) |
| Dimensions (W × D × H) | 1,780 × 2,140 × 2,045 mm (70.1" × 84.3" × 80.6") (including touch panel and handle of 10 L ink supply unit) |
| Weight | Approx. 1,800 kg (approx. 3,960 lb) |
| Drying system | NIR dryer |
*1. Calculated under SCREEN test conditions.