SCREEN Graphic Solutions Co., Ltd. has announced its cooperation with KYOCERA Document Solutions Inc. in the development of the Truepress JET S320, an A3 sheet-fed digital inkjet printer, aimed at commercialisation in 2024. A prototype will be shown at the upcoming Printing United Expo, USA this month (October)
The Screen Truepress JET S320 prototype will make its debut at the Printing United expo, held in Atlanta, Georgia, USA from October 18th to 20th. Screen's own proprietary Truepress SC/SC+ ink technology will be deployed, providing This provides ink compatibility with standard coated papers, enabling printing on commercially available coated papers without the requirement of coating or priming.
With commercial printing and publishing houses continuing to adopt digital printing technology, including a broader societal shift toward businesses that leverage digital data, in contrast to the traditional production of mass-media publications, DM and marketing collaterals; there is a continuing demand for data-driven targeting and personalised advertising materials, which also means  production that involves printing only the necessary quantity at the required time, often with targeted messaging.
Screen has long manufactured and installed high-speed, continuous-feed inkjet digital presses, the Truepress JET 520 series in response to these needs and also in book production. These digital inkjet presses have been widely embraced for various printing applications such as transactions, direct mail, catalogs, brochures, publications and more. As a result, Screen is a global leader in this reel-fed market and going forward, is commercialising an A3 sheet-fed inkjet digital printing machine and leveraging the technical expertise in cut-sheet production printers manufactured by Kyocera Document Solutions Inc. Screen brings its proprietary Truepress SC/SC+ ink technology to the party, for ink compatibility with standard coated papers, without the requirement of coating or priming. In the reel-fed presses, it has proven very successful for top-quality colour work on the HD (high definition) versions of the Truepress Jet 520 series.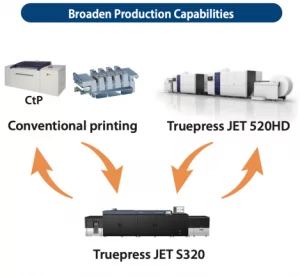 With the introduction of this cut-sheet device, Screen is expanding various solutions, including the enhancement of workflow solutions integrated with its EQUIOS workflow system, hybrid printing in conjunction with CtP and offset printing, and increased productivity through the combined use of the Truepress JET 520 reel-fed series.
Locally, Screen GP Australia Managing Director Peter Scott comments: "This is a very welcome move into A3 cut-sheet! In combining Kyocera's proven excellence in this sector with the TaskAlpha series, with Screen's amazing SC and SC+ inks, plus software commercial offset printers will have access to the perfect digital partner, who speaks the same language, delivers offset quality on coated stocks – and doesn't charge clicks!"
Screen GP Americas will show the S320 prototype on stand B2544 at Printing United.
In Australia and New Zealand: www.screenaust.com.au