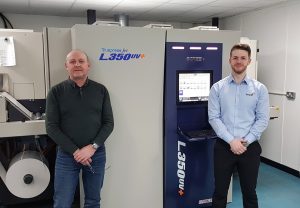 Nathan Williams
Digital Print Manager
Limpet Labels UK Ltd
Wales
»
Truepress Jet L350UV+ Series
An established producer of high-quality labels, Limpet Labels installed their first SCREEN Truepress Jet L350UV next to their existing toner device. This first UV inkjet press had unheralded success in producing their labels for industries with challenging applications. When they needed to increase their digital capacity, it was an easy choice to replace their toner system with a second SCREEN press. Not only has this led to their uptime increasing by 98%, but also subsequently achieve a much healthier profit level due to reduced production costs.
Quote:
The Screen presses ensure that we no longer need to contend with lengthy job set-ups and...
Truepress Jet L350UV+LM used for food safe short-run pouch application Screen today announces that leading UK label print provider, Hine Labels, is expanding its application offering by manufacturing flexible printed pouches with its UV inkjet label press under the brand name of houp.com. According to Bill Hine MD of Hine Labels, it was a logical decision to apply...
Truepress Jet L350UV+LM opens the door to the food label market Screen today announces that Baker Labels, a leading UK label print provider, has purchased a Truepress Jet L350UV+LM to expand its application offering and increase capacity for its existing print line. According to Steve Baker, Managing Director at Baker Labels, the company decided to invest in the Truepress...