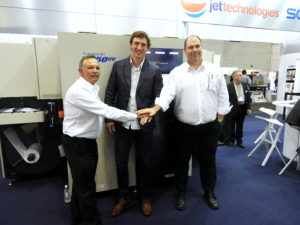 Sticky Labels – Australia
Directors
Justine McEwan and Mark McEwan
Melbourne, Australia
Melbourne printer Sticky Labels is one of two Victorian firms to install Screen's Truepress Jet L350UV digital label press in the past 3 months and, to quote Production Manager Grant Dennis when he visited the Screen/Jet Technologies stand at PacPrint: "It hasn't missed a beat."
This is the Braeside company's first full production digital label press although its sister company Label Concepts has been running wide format inkjet technology for a number of years to service fleet vehicle wraps and the occasional short run of labels on self adhesive stocks. It was purchased through Screen GP distributor Jet Technologies.
The Directors of Sticky Labels, Justine McEwan and Mark McEwan, made the decision to purchase the Screen machine to support the company's continued growth in the FMCG market.
"The biggest attraction with the Screen machine for us was the speed and quality that the press can run at 50 metres-per-minute," says Grant Dennis, adding: "The guys at Jet Tech were fantastic; they opened their doors for us to test, trial and run whatever jobs we wanted. We had too make sure that the L350UV was the right fit for Sticky Labels and we certainly had specific requirements that had to be met on a number of stocks, which were achieved. These included colour matching, usability, ink cost, quality and of course speed. From a production sense, the ability to run multi SKU's, eliminating wash-ups, plate making, ink mixing etc. and anything with multiple spots, multiple images, vignettes, with both short and long runs – this is a very important advantage."
While Sticky Labels is using the L350UV to service new and existing short-run work, Dennis notes that a substantial amount of existing work will migrate from flexo to digital once a new Prati Digifast One digital finishing line arrives. With setup times as low as eight minutes, the Digifast will complete the digital label capability with matched unwinding, rotary die-cutting, lamination, slitting and rewinding.
However, flexo is still important for longer runs and Director Justine McEwan says: "Sticky Labels is on its largest capital investment venture, which will also include allowing for the funding of a major new Flexo machine in the ensuing months.  Coupled with the purchase of the Screen Truepress Jet L350UV and Prati finishing machine, this puts Sticky Labels on the map as a major FMCG label supplier with state-of-the-art technology, complemented by our phenomenal customer service and pricing."
Grant Dennis praises Jet Technologies' and Screen's support, saying: "It's been fantastic and very comforting knowing that the highest level of support from both Screen and Jet Tech is just a phone call away, Screen have a dedicated Melbourne tech who drops in every couple of days just to see how things are going, to date I haven't had any issues so I haven't had a call out as such. Jet Technologies' support has always been great; Darry Wilson has been in regular contact, if not by phone then popping down to Melbourne for a day or two just to make sure we are happy."
He continues: "Existing and new clients love being supplied with an actual printed proof off the machine and we can step up 5, 10, 50 different SKUs; run them out on the one web send them to the client prior to the production run so they know exactly what they will be receiving. They all love the quality especially what you can achieve with the white ink going down on clear substrate, running a full block of white down to .05% dot on the same image."
Screen GP Australia Peter Scott adds: "Our dealer Jet Technologies has really done a great job in understanding Sticky Labels' every need and addressing them professionally and quickly; consulting with us both here and in Japan for the best possible outcome for the customer. It's been a collaborative process and a real honour to be a part of Sticky Label's growth and adding of new services with the Truepress Jet L350UV."
Screen's L350UV is an all-inkjet, 350mm narrow web digital label press that uses both LED and conventional UV curing to ensure completely dry results on reels of labels, ready for finishing offline or, if required, inline via its JetConverter 350 system. Running at up to 50 mpm with high uptime, sequential differing label jobs can be produced without interruption to re-set the press, mount plates and make-ready. Data is streamed to the press via Screen's Equios front-end provided the printed stock remains the same, with change-overs to different self-adhesive stocks fast and easy.
As Mark McEwan concluded, "Whilst this is our first purchase of digital equipment for Sticky Labels, our expectation is that a subsequent purchase will be required to manage our growth.