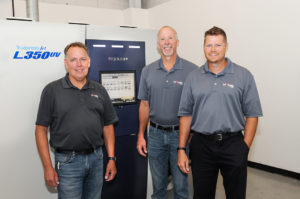 Scott Kneer
Operations Manager
BGR Label
Cincinnati, Ohio
BGR Label near Cincinnati, Ohio converted 95% of its 4-color process label work to its first SCREEN L350UV digital inkjet press resulting in so much additional business it recently installed a second machine, the latest generation L350UV+. Operations Manager, Scott Kneer, explains.
SCREEN Graphic Solutions Co., Ltd. has finalized development of a new blue ink intended for use in its high-end Truepress Jet L350UV+ digital label printing system. The ink will be released worldwide in June this year. Driven by a growing awareness of corporate and product brand image label producers face an increase in demand for...
Truepress Jet L350UV+LM opens the door to the food label market Screen today announces that Baker Labels, a leading UK label print provider, has purchased a Truepress Jet L350UV+LM to expand its application offering and increase capacity for its existing print line. According to Steve Baker, Managing Director at Baker Labels, the company decided to invest in the Truepress...