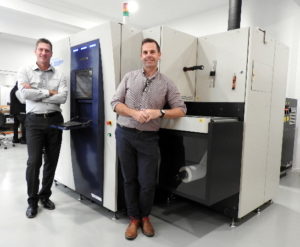 ExelPrint – Australia
Director
Jason Kiekebosch
Melbourne, Australia
EXELPrint of Rowville, Melbourne has become the third Victorian site for Screen's Truepress Jet L350UV digital label press. EXELPrint is part of the growing EXELNetwork and specialises in the printing of safety, testing, asset and identification tags and the new device is set to help this dynamic company diversify into new areas. The press was sold through Jet Technologies, Screen's digital label press and Flexo CtP dealer.
Managing Director Jason Kiekebosch started the business as Appliance Testing Services and today comprises three thriving divisions: EXELPrint, EXELTest and EXELTrain. Headquartered in Rowville, Melbourne and with sales offices in Perth and Auckland, the company services the specific sectors of electrical testing, industrial safety training and printing of the tags and labels needed to ensure compliance, safety and tracking.
EXELPrint adopted digital production in 2013 when it became the first Australian site for Heidelberg's Linoprint-L inkjet label press, now discontinued and unsupported. Jason Kiekebosch explains: "It's been a great machine for us but, we've been mostly unsupported and fending for ourselves. Also, we had reached the stage where we needed more colour, ability to print on wider and different stocks and importantly, white ink. We conducted extensive research and testing, particularly at Jet Technologies' Sydney demonstration suite – and decided that the Screen L350UV was the best path forward."
Kiekebosch has also ordered an additional finishing line arriving soon, made in Australia by Rotary Engineering and offering unwind, varnishing, flexo, laminating, cold foil, semi-rotary die-cutting, slitting and rewinding. Operation management is under the control of Damien Gray and the overall team of around thirty – of who eleven are engaged in EXELPrint – enjoy a pleasant work environment with a company that has strong leadership and forward-vision.
He adds: "The addition of the Screen L350UV from Jet Technologies enables us to go to the next level of tag and label production as we implement our '2020 Vision' strategy. We are a niche player and will remain specialists in what we do but, there are logical opportunities we will now pursue. For us, every job is a variable data job with numbers, barcodes, QR codes and so on," he says. "Both Jet Technologies and Screen have been terrific in their support and responsiveness and we look forward to partnering with them further as we develop more innovations for our customers."
Peter Scott, Managing Director of Screen GP Australia adds: "Together with Jet Technologies, we are delighted to have been able to partner with EXELPrint on their digital label production needs. Jason and his team are real professionals and a pleasure to work with. Our support structure is largely what won them over and we intend to prove that, with Screen equipment, you can depend on long-term after sales support."